Exhibit at Belgrade History Room
BELGRADE IN BYGONE TIMES
An exhibit which shows what life was like in Belgrade over a hundred years ago is on display in the Belgrade History Room at the Center for All Seasons at 1 Center Drive in Belgrade Lakes. The exhibit paints a picture of Belgrade as primarily an agricultural community with many prosperous farmers using the Maine Central Railroad to carry apples, corn, and potatoes to far-away markets. This was the Golden Age of Tourism, when visitors began fleeing the increasingly crowded and dirty cities to get back to nature in the Belgrades, where they could enjoy clean air, pure water, and excellent fishing in the lakes. The free exhibit is available for viewing by appointment. Contact belgradehistoricalsociety@gmail.com to make an appointment.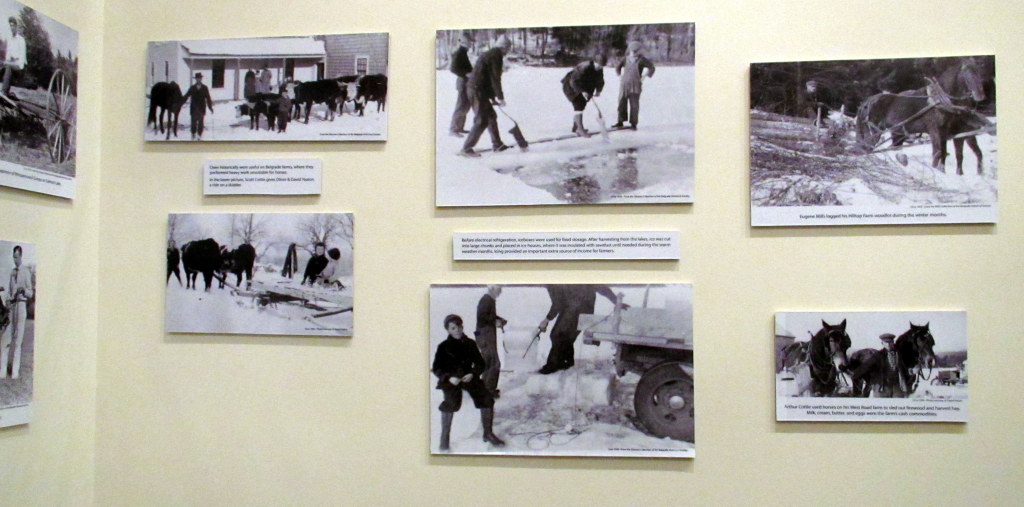 ___________________________________________________________________________________
Picture of presentation by the Belgrade Historical Society of the facsimile of the original incorporation of the Town of Belgrade. The framed document is on permanent loan to the Town of Belgrade and is hanging in the Municipal Office

"NEW"
BHS Gift Shop – 10% discount to members
The 2nd printings of the Town Of Belgrade Past and Present, Pictures -Places -People 1796-1996 are now available for sale at the Belgrade History Room.  Pricing for these books are $30.00 each or $27.00 for Members.
The 2nd printings of the  1774-1976 Soft Cover "Past & Present" , Pictures and People of Belgrade, Maine Books, are now available  for sale at the Belgrade History Room  
$15.00 or $13.50 for Members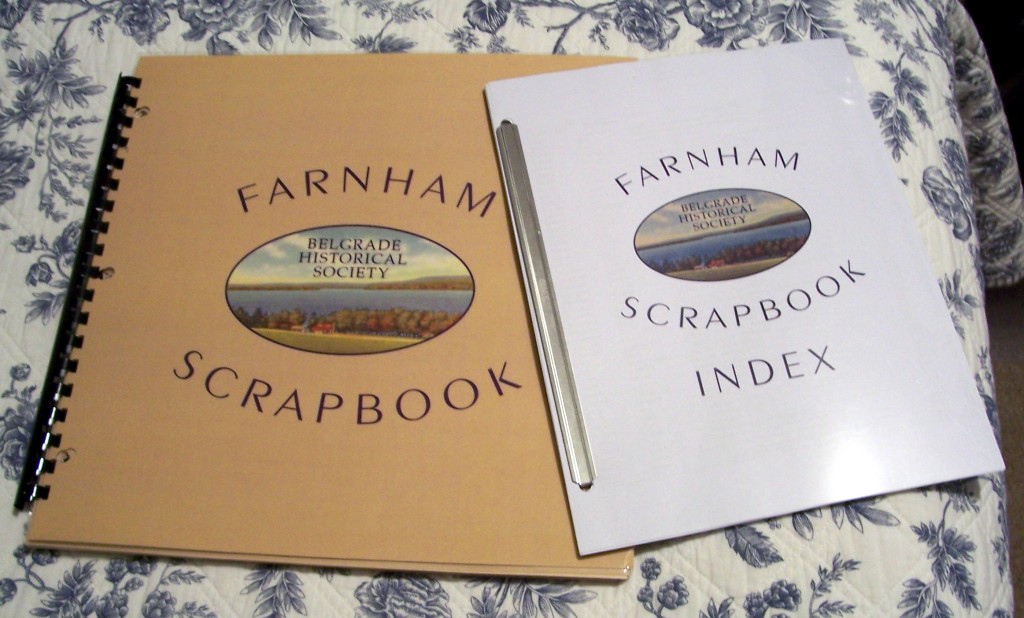 Farnham Scrapbook CD – $10
$10 ~ $9 members
             
Aprons and Hats – $12 & $20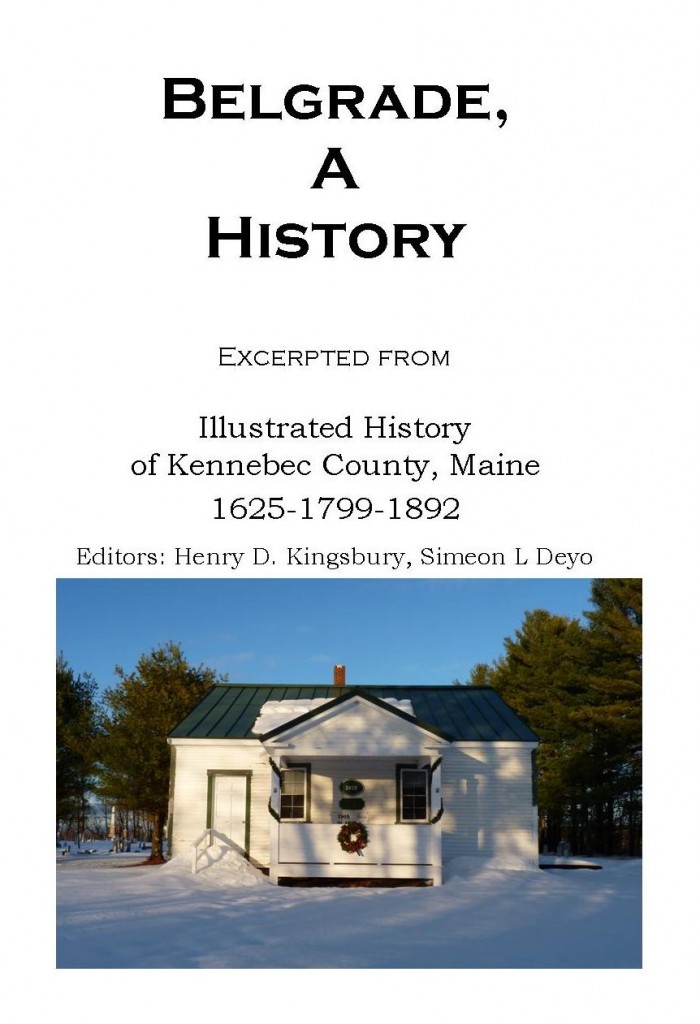 Belgrade, A History
$8 ~ $7.20 members
---
Belgrade recipients were presented the Boston Post cane when they were the oldest resident in town. They include the following:
Howard Boston, b. 11.28.1922 – current holder
Stanley Lord, b. 12.15.1921
Esther Childs, b. 3.23.1913
Helen Lundgren, b. 2.11.1902
Pearl Rich, b. 12.24.1898
Ruth Wort, b. 8.8.1897
Margaret Jenney, b. 4.14.1896
Arobine Twombly, b. 6.13.1891
Mina Yeaton Stuart, b. 1.25.1888
Stephen Twombly, b. 8.8.1888
Guy Yeaton, b. 3.2.1882
Effie Minot, b. 11.10.1836
Joel Richardson, b. 12.9.1837
---
The Belgrade Historical Society is moving forward with energy and enthusiasm. Here is the strategic plan that was recently approved by the Board of Directors:
BELGRADE HISTORICAL SOCIETY'S STRATEGIC PLAN
MARCH, 2015
Mission Statement:
The mission of the Society shall be to identify, collect and preserve documents, material objects and oral narratives concerning the history of Belgrade and surrounding areas; to perpetuate the memory of those who contributed to this history; to identify and promote the preservation and restoration of buildings of historic and architectural interest; to develop educational programs; and to encourage researchers in their study of the town's history. Ultimately, it is the goal of the Belgrade Historical Society to house the collection in a secure, accessible space.
GOALS AND OBJECTIVES
The Belgrade Historical Society is dedicated to serving its members and the community by striving to achieve excellence in the following areas:
I.   Infrastructure
A major goal of the Society is to acquire a suitable facility in which its collections will be stored, administrative work can go forward, researchers can be assisted, and a portion of our collections can be on display. A restroom and space for food preparation and storage will be included. The facility will be equipped with appropriate technical infrastructure to support basic communication services such as internet and telephone, and basic electronic equipment such as a computer, printer, copy machine, and scanner will be on site.
♦ Short term (1-3 years)
Currently the Town of Belgrade has authorized the Belgrade Historical Society to use  space in the Center for All Seasons for a Belgrade History Room. The town has also authorized the use of the Old Town Meeting House by the Society, with the understanding that the Society must maintain insurance on said property. In addition, the Society will seek approval from the town prior to initiating any maintenance or improvement projects necessary to render the facility useable by the Society. The Society will establish an annual fund raising program needed for building maintenance and improvements, which will only be initiated after the necessary funding has been acquired. The Belgrade Historical Society will ensure that all of its facilities are in compliance with the Americans with Disabilities Act.
♦Long term (3-5 years or longer)
It should be recognized that over time, as the Society's collections, membership, and educational programs grow, the development of more additional space may be needed. The Society will strive to make best use of future technology by providing adequate financial support for any upgrades or new systems that present themselves.
    II.  Organizational image
♦In order to advance the Society's community awareness and visibility, a readily identifiable organizational image in the form of a logo will be used consistently on signage, our website, Facebook page, advertising, and printed material.
   III. Educational programming
♦The Society will sponsor an advertised annual series of informative programs and lectures which expand community awareness of the historical heritage of the town and region;
♦A portion of the Society's facilities, website, and Facebook page will be dedicated to displays and mounted exhibits which incorporate historical items from our collections and items on loan. The public will be provided access to view the exhibits and displays;
♦A community outreach program will offer historical programs relating to the area's history to school children, community organizations, and miscellaneous groups.
IV. Research opportunities
♦The Society will accession, document, and catalog its collections, making them available to  visiting researchers;
♦The Society will make its collections available to the public under supervision during regular opening hours for researching information relating to our history and family genealogy;
♦The Society will encourage research by special committees into areas of our history, such as old houses, camps, tourism, agriculture, early businesses, families, and individuals. The Society will promote oral history interaction with senior residents;
 V. Collections
♦Given that our collections provide the foundation of our research services, exhibitions, and educational programs, the Society will value appropriate accessioning, storage, and care of collections as a top priority;
♦Acquisition of additional objects, documents, and pictures from the general public will be encouraged;
♦Volunteers caring for collections shall be provided training in archival processing and collections care.
  VI. Fiscal development
♦The Society must establish annual fundraising activities in order to meet its monetary obligations and promote future growth. Specific fundraising efforts will be developed for special projects.
♦The significant progress that has been made growing our membership should be continued, with emphasis on developing interest in the Society's activities, particularly with our younger community members and summer residents. The Society will encourage the support of Belgrade businesses through a Business Membership program.
---