A daughter of George E. and Effie Parcher Minot, Blanche Minot was born on September 1, 1874 in the house on the Minot Hill Road in Belgrade where family members had lived for four generations. Her father was a successful farmer on the family homestead, while also serving in various posts such as town clerk, school board member, and selectman in Belgrade. Going to Augusta, he was a member of the State Senate and Chief Clerk in the office of the Secretary of the Senate. He next went to Washington to fill the position of Manager in the national House of Representatives, 51st Congress. He was also active in the Grange.
A pencil print of the Minot family homestead by Blanche Minot
Blanche's older brother, John Claire Minot (1872-1941), had an illustrious career. After graduating from Bowdoin College, he was editor of the Kennebec Journal, editor of the publication, The Youth's Companion, and had a nineteen year career as literary editor of the Boston Herald. He also authored fourteen books.
While often overshadowed by her more prominent brother, Blanche was a remarkable woman in her own right. A bright and motivated student, Blanche began her teaching career at the age of sixteen when she took charge of the primary school in Rangeley in 1891. Two years later she advanced to teach in Rangeley's Free High School, and later she taught school in Popham Beach.
But Blanche was not to teach in Maine indefinitely. An 1899 directory finds her boarding with a family in Kingston, MA, where she is listed as a teacher, and subsequent directories through 1924 find her living in Belmont, MA while teaching in the part of that city known as Waverley.
Blanche never forgot her ties to Belgrade, however, and returned often. A 1910 news item from the Waterville Morning Sentinel reported, "Miss Blanche Minot, who teaches school in Waverly, Mass. came home Friday to spend Christmas with her mother, Mrs. George Minot."
The talented artist Blanche Minot doing what she loved best
It was not for her teaching career that Blanche Minot is best remembered. She was a prolific artist, and even today, some of her works show up in auction houses or on EBay.
There is so much of Blanche's artistic career we don't know about, but one little blurb was printed in the Waterville Sentinel in September, 1910. While visiting the farm in Belgrade for the summer that year, one of her paintings was entered in a competition as part of the Central Maine Fair, a long running annual event in Waterville. The newspaper reported that she had won first place in the "Amateur Landscape" category at the fair.

A Blanche Minot watercolor was often included with a personal handwritten greeting card to her friends.
Painting by Blanche Minot: Road to the Sea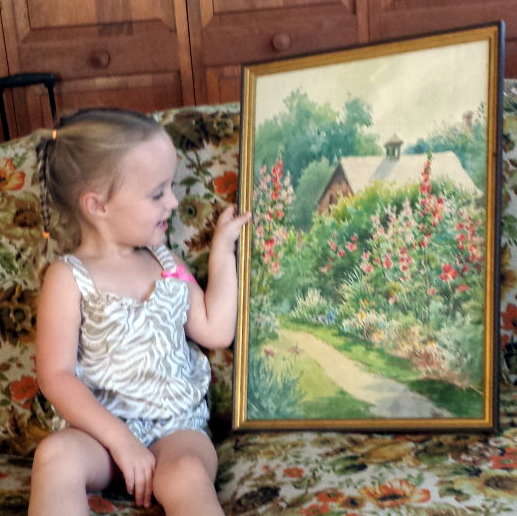 Photo courtesy of John Stuart
A Blanch Minot painting survives in Belgrade in the home of John and Vera Stuart. Here the painting is being admired by their granddaughter, Sophia Stuart, a great-great-great-granddaughter of Blanche Minot's cousin, Bertram Parcher Stuart (1864-1910).
Blanche Minot eventually retired to her home town of Belgrade, and upon her death on June 17, 1935, she was buried in her family's plot in Woodside Cemetery. Her stone included the description: "Beloved teacher, devoted daughter, gallant sufferer."
Blanche Minot's mother, Effie Parcher Minot, celebrated her 100th birthday one year after Blanche's passing. Effie Minot died at the age of 103 on December 11, 1939.